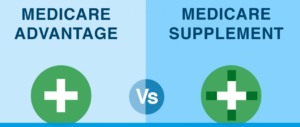 How do I enroll in Medicare Advantage?
To join a Medicare Advantage Plan, you will need to have Original Medicare (Part A and Part B) coverage and live in an area where an Advantage plan is offered. (Most parts of the country have Medicare Advantage plans available, but some rural areas do not.)
A Medicare Advantage plan will wrap your Medicare Part A and Part B (and in most cases, Part D) coverage into one plan. But you'll still have to pay the government a premium for Part B, in addition to the premium you pay for Medicare Advantage (which might be $0, depending on the plan).
You can enroll in a Medicare Advantage plan when you're first eligible for Medicare, or during the annual Medicare open enrollment period in the fall (October 15 to December 7).
The first opportunity for Medicare Part D sign up is when you're initially eligible for Medicare – during the seven-month period beginning three months before the month you turn 65, or during the seven-month period beginning three months before your 25th month of disability. (Eligibility rules are different if a person is enrolling in Medicare due to a diagnosis of ALS or end-stage renal disease.)
In both of these cases – whether you're turning 65 or are eligible for Medicare because of a disability — you likely have the option of selecting a Medicare Advantage plan that includes Part D prescription drug coverage, and using that in place of Medicare A, B, and D.
If you enroll in Medicare during the January – March General Enrollment Period, you can enroll in a Medicare Advantage plan (most of which include Part D) between April 1 and June 30. But if you already had premium-free Medicare Part A and you're just using the General Enrollment Period to sign up for Part B, you'll have to wait until the fall open enrollment period (October 15 to December 7) to sign up for a stand-alone Part D plan. This is because Part D can be purchased when you have Part A or Part B, whereas Medicare Advantage requires you to have both. So if you've already had premium-free Part A, you were eligible for Part D as of when your Part A coverage took effect. But your eligibility for Medicare Advantage would only begin when you're enrolled in both Part A and Part B.
If you're enrolled in a Medicare Advantage plan and use the Medicare Advantage open enrollment period (January 1 to March 31) to switch to Original Medicare, you'll also have the option to sign up for a Part D plan to supplement your Original Medicare coverage.
How do I enroll in a Medicare Supplement (Medigap) plan?
During your initial Medigap enrollment period (the six months starting with the month you're at least 65 years old and enrolled in Medicare A and B) you can't be denied Medigap coverage or be charged more for the coverage because of your medical history.
But after that window ends, Medigap insurers in most states can use medical underwriting to determine your premiums and eligibility for coverage. (New York, Connecticut, Massachusetts, Maine, Missouri, California, Oregon, and Washington have rules making it easier for people to enroll or switch to a new Medigap plan after the initial enrollment period ends. There are also limited federal guaranteed-issue rights for Medigap plans.)
If you're under 65 and eligible for Medicare because of a disability, there are 33 states that provide some sort of guaranteed issue period during which you can purchase a Medigap plan. But in the majority of those states, the carriers can charge additional premiums for people under 65. You can click on a state on this map to see how Medigap plans are regulated in the state.
To find out about Medigap policies in your state, contact your State Department of Insurance or your State Health Insurance Assistance Program, or click here to speak with one of our partners, who can help you find a plan in your area.
Enroll in Medicare Advantage Plans Now
#medicare#medicareadvantage#ppo#hmo#medicaid#aep#openenrollment#healthcare#seniors